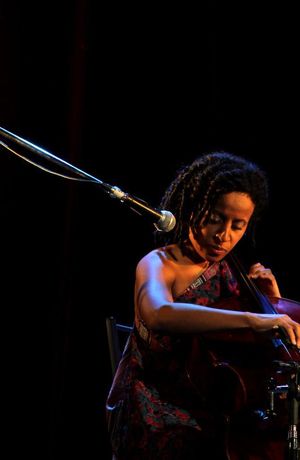 Carolina es una chelista de las nuevas direccciones, cantante de folclor , educadora y compositora Afrocolombiana que ha reunido su experiencia eclectica de colaboraciones con bandas de folclor, fusion y musicas del mundo, grupos interdisciplinarios de artistas, companias de danza, ensambles de musica de camara y orquestas. 
Carolina es magister en la pedagogia de la interpretacion del violonchelo de la Universidad de Ohio. Ha sido becaria Fulbright, Martin Luther King Jr. y del Departamento de Estado de los Estados Unidos entre otras distinciones.
Carolina es la directora y fundadora de la Beca Cuerdas Afrocolombianas y el Programa Musical Tutti.
Carolina is a new directions cellist, Afro-Colombian folk singer, educator and composer who has gathered her eclectic experience from collaborations with folk, fusion and world music bands, interdisciplinary groups of artists, dance companies, chamber music ensembles and orchestras. 
Carolina has a master's degree in cello performance pedagogy from Ohio University. She has been a Fulbright, Martin Luther King Jr. and United States Department of State scholar, among other distinctions. 
Carolina is the director and founder of the Afro-Colombian Strings Scholarship and the Tutti Musical Program.
Discography  
(2022) Esperanza released with Sororii
(2019) Kadara(Destinies United) released with Kombilesa Asé   
(2013) MLEN Música Latinoamericana y Espirituales Negros- Cello Solo----LAMNE Latin American Music and Negro Spirituals-Solo Cello 
Commissions 
(2023- current) Music for the short animation Caída Libre  [Colombia]
(2023- current) Music for The Structure Within [United Kingdom]
(2022) Cello music for the short animation Afrotoscopia  [Colombia]
(2019-2020) Music for the short animation Reparaciones [Colombia]
Awards 
(2022) Quibdó Africa Film Fest - Best Original Music Soundtrack with Reparations
(2022) City of Annecy Award for Reparations short animated film
(2021) New Music Music USA Music Creator Development Fund
(2020) Best Music Videography+ Best Mid Short Made in Ohio for La Villa hispana Orgullo Latinx with Kombilesa Asé  at the Short Sweet Film Festival
(2011) Fulbright Scholarship-Cultural Studies for Afro Colombian and Indigenous Communities
(2006) Martin Luther King Jr. Scholarship
Nominations
(2021) Recognition of Excellence Award Fulbright Colombia